December 23, 2022 at 11:50 pm
#18379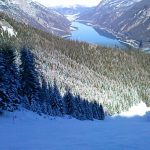 Achentaler
Participant
Hallo miteinander,
Rohrspitz am Bodensee (395 msl ) meldet am 24.12.22 um 0 Uhr  +14,1°!
mit SW Anströmung, die Valluga (2804 msl) -4.2°, und in Warh (1470 msl) 6,5°.
Die Valluga erreichte diese Woche ca. 4° am 20 und 21.12,
der  Tiroler Brunnenkogel mit seinen stolzen 3429 msl schlug auch mit +0°! oder knapp darunter
am 20.12  zwischen 12 und 15 Uhr zu Buche. (Temperaturen und Grafik Quellen Zamg)
ein Frohes Weihnachtsfest
an alle Freunde des Wetterturniers
Attachments:
You must be
logged in
to view attached files.